AG Salons & Nouvelles de la mécanisation
John Deere and DeLaval have joined efforts to create the Milk Sustainability Center (MSC), a digital eco-system to help dairy farmers improve the efficiency and sustainability of their operations. The eco-system will be open for partners to join, with the objective of providing farmers with data needed for a holistic vie...
En savoir plus
Lundi 25 septembre 2023
Valtra modernises and expands their brand home factory in Suolahti, central Finland. Recent investments in the AGCO subsidiary enable improved manufacturing efficiency and better working conditions for many of its 1,200 employees.
The most noticeable change at the Finnish factory is Valtra's new 2,000 m2 paint sh...
En savoir plus
Dimanche 24 septembre 2023
The new, "sixth" generation Valtra S Series is to hit market next year and this new 280hp to 420hp range will be made in Finland once again.There was a distinct undertone at the official unveil ahead of the Agritechnica public launch that the Finns wanted to be back in control. The common platform S4 series has been ...
En savoir plus
Samedi 23 septembre 2023
Kverneland Group has fully integrated the products of Phenix Agrosystem (BC Technique) from France into its arable equipment portfolio. This range of rotary hoes, inter-row cultivators and guidance interfaces, well complements the mechanical weed control portfolio of Kverneland and meets with the future of sustainable fa...
En savoir plus
Jeudi 21 septembre 2023
Case IH has extended the transmission choices for the 100-130 hp Vestrum tractor range with the ActiveDrive 8 powershift transmission. The Actidrive 8 comes as an optional choice,  in addition to the CVXDrive continuously variable transmission (CVT).
Previously available only on the 115-150 hp Maxxum tractors, the...
En savoir plus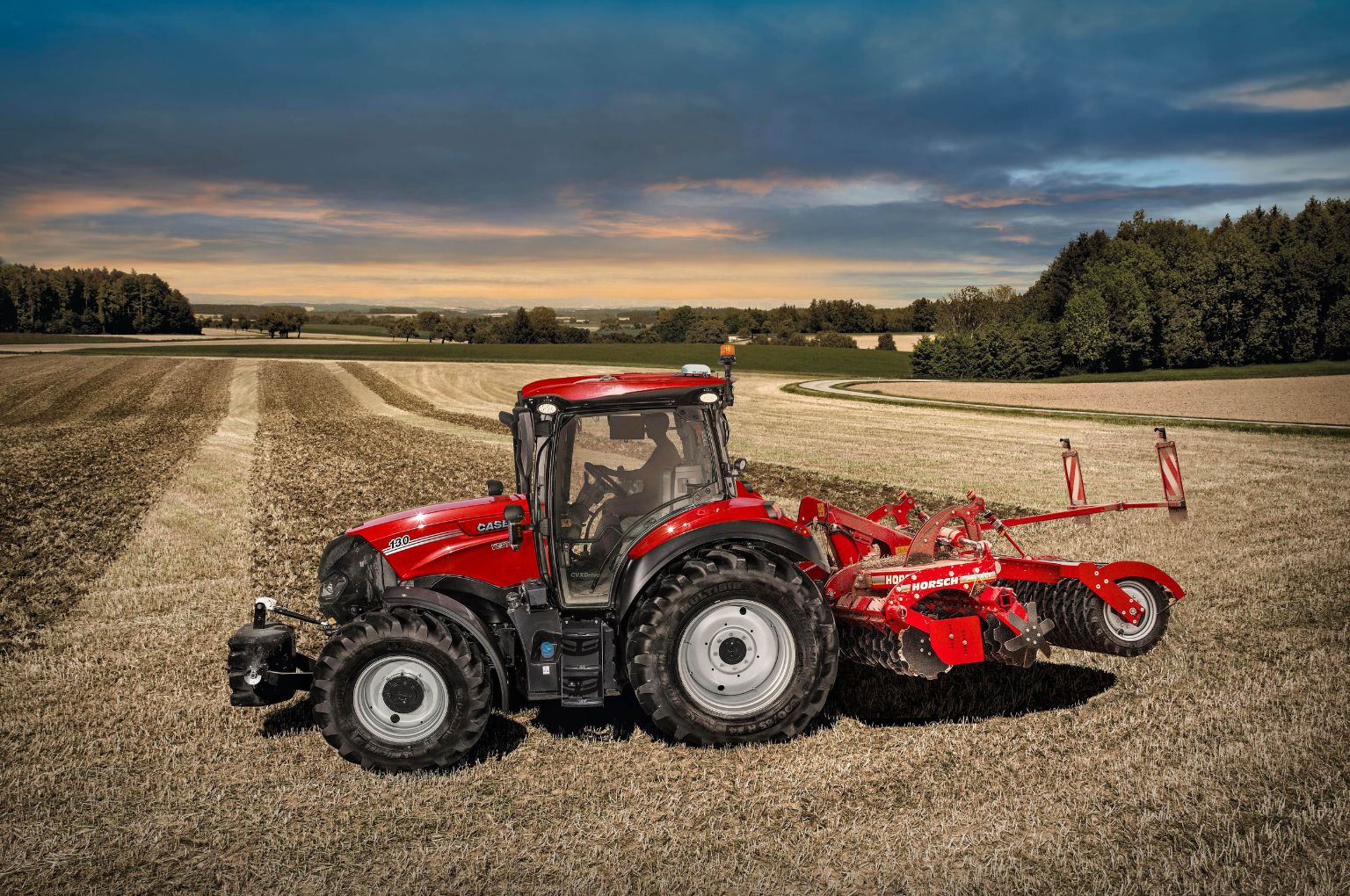 Mercredi 20 septembre 2023
The Steketee brand name is disappearing from its mechanical hoes, which from November this year will be delivered in Lemken blue instead of Steketee red.It is five years since Lemken acquired Steketee, and the full integration of the Dutch manufacturer into the Lemken family is described as an important step that strengt...
En savoir plus
Lundi 18 septembre 2023
Pöttinger introduces the new Servo 3000 hitch-mounted reversible plough in the medium power class up to 200 hp. The engineering department of the company borrowed many of the features of the more powerful Servo 4000 to unite durability, easy operation and good results.
Servo 3000 ploughs are available with three t...
En savoir plus
Lundi 18 septembre 2023
Amazone has extended its large area seed drill range with the new Cirrus 9004-2C Grand trailed cultivator drill. Due to its adaptability to various field management concepts, it is suitable for large scale and future oriented farming. The machine is available in a working width of 9 m and a row spacing of 16.6 cm.
...
En savoir plus
Lundi 18 septembre 2023
With the Thulit, Lemken presents its first weeder harrow and rounds off its range of mechanical weed control implements. In developing this machine, the company broke new ground to now launch a new concept with four beams and eight rows of harrow tines. The Thulit is specifically suitable for weed control in young plants...
En savoir plus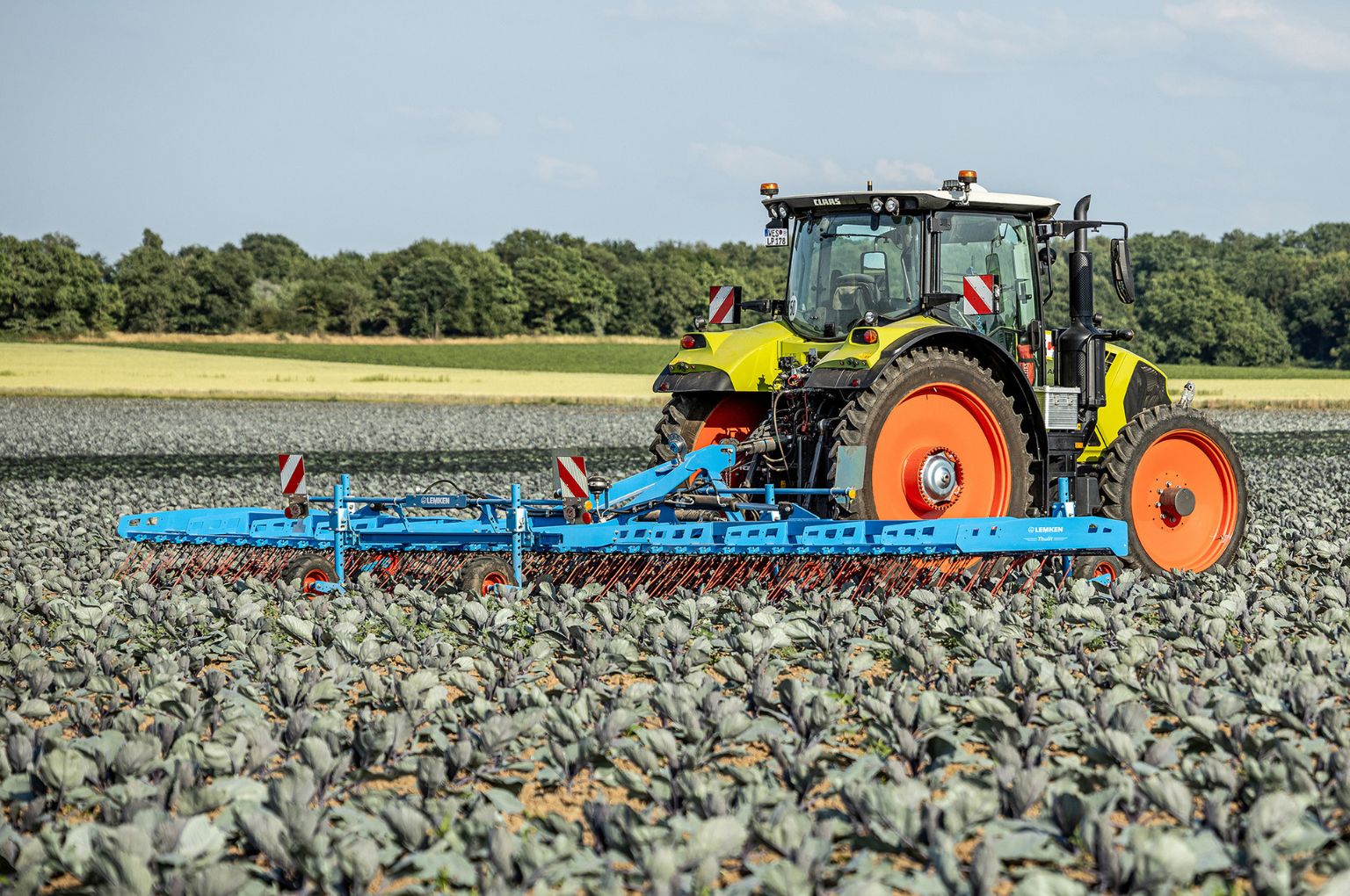 Samedi 16 septembre 2023
There are no changes to the 4.5l engine, transmission and model numbers, but next year's seven-model range of Case IH Farmlift handers are all packaged with the 6F/3R PowerDrive powershift.The Farmlift 633 (max. lift capacity/lift height 3.3t/6.0m), 737 (3.7t/7.0m) and 935 (3.5t/9.0m) models continue with the 140l/min ...
En savoir plus
Vendredi 15 septembre 2023
Steyr is signaling its intent to bring its previously shown "Konzept" technologies to market by unveiling the Hybrid CVT during the upcoming Agritechnica trade show in Hanover, Germany. The Hybrid CVT model is already working in the field and takes many Konzept technologies closer to production.
Based on the cu...
En savoir plus
Vendredi 15 septembre 2023
The evolution towards soil cultivation, planting and ridging in a single pass in potato growing, has been underway for some time. Dewulf has therefore developed the brand new, comprehensive Certa Integral 40 planter. After an earlier announcement, the new Certa was presented at recently held Potato Europe in Belgium.
...
En savoir plus
Jeudi 14 septembre 2023
Pöttinger has borrowed much of the tech from the more powerful Servo 4000 range and incorporated it in the new Servo 3000 series. The mounted reversible range is designed for tractors up to 200hp.Pöttinger continues to update its plough ranges. Following on from the recent launch of the Servo 4000 (max. 350hp) and 6000...
En savoir plus
Mercredi 13 septembre 2023
With the Pantera 7004, Amazone is offering a further model in the self-propelled sprayer segment. Features of this new machine are its high tank capacity and the newly developed running gear. The Pantera 7004 combines high performance with modern driving characteristics. It is designed for large-scale farming.
With...
En savoir plus
Mercredi 13 septembre 2023
Creating a perfect seedbed is an important asset of Pöttinger Lion power harrows. Combined with a seed drill, this machine becomes a flexible and high output combination. The updated Lion with working widths from 2.5 m to 4.0 m and multiple equipment options, covers all types of soil and different farm sizes.
A pe...
En savoir plus
Vendredi 8 septembre 2023
Pichon has added two 13m³ capacity slurry tankers to its SV range. The first, the SV13 is available with bogie or tandem axles. The second, the recessed SV13R, is suitable to working on slopes.Slotting in below the existing smallest twin-axle SV16 (16.6m³), the SV13 is aimed at farms spreading up to 5,000m³ of slurry ...
En savoir plus
Jeudi 7 septembre 2023
Combining high levels of power and traction with compact dimensions, the JCB 530-60 Agri Super is a new model in the popular 6.0m lift height sector. Lift capacity is 3.0t.While ideally sized to match the needs of livestock farms who need a nimble machine for daily tasks in and around buildings, overall height and width ...
En savoir plus
Mercredi 6 septembre 2023
Five years ago, Lemken acquired "Machinefabriek Steketee" in the Netherlands, expanding its crop care product portfolio with implements for mechanical weed control and future-oriented camera-assisted machine guidance. The full integration of the crop care business will now be completed by November 2023: Steketee will...
En savoir plus
Mercredi 6 septembre 2023
Lemken has rounded off the top end of the Rubin compact disc harrow range with a 10m model.Using the same symmetrical disc arrangement as smaller models in the range, the Rubin 10/1000 can be hitched via a ball coupling or drawbar eye and hydraulic support is available to make attachment and detachment easier.Working to ...
En savoir plus
Mardi 5 septembre 2023
With the EasyCut B 880 CV/CR (Collect) and B 1050 CV (Collect), Krone presents two new Butterfly combinations. They come with conditioners as a standard feature and can optionally be equipped with cross conveyor units.
Krone has pushed beyond previous limits with its new triple mower combinations of the EasyCut B 8...
En savoir plus
Mardi 5 septembre 2023
The new Case IH Axial-Flow 160 series combine harvester, offers built-in benefits to increase grain production efficiencies. The Axial-Flow 160 series now comes with Harvest Command combine automation technology to take the guesswork out of harvesting.
"We know that every field comes with its own unique set of ch...
En savoir plus
Lundi 4 septembre 2023
With a working width of up to 9.50m, the Claas Disco 9700 is available in five different versions with tine or roller conditioner and swath merging.Combining Max Cut mower beds with quick knife change and Active Float suspension, new developments include the flow-optimised wear skids. First introduced on the Disco 8500, ...
En savoir plus
Vendredi 1 septembre 2023
John Deere's new 1 Series round balers help farmers ensure optimal moisture levels and consistent bale weights are maintained in every field, in every windrow and with every bale. The 1 Series features Bale Doc technology to document bale moisture and weight in near real time.
These collected data can then flow i...
En savoir plus
Vendredi 1 septembre 2023
Python is the latest generation of AVR's twin conveyor belts. It offers high capacity and is potato-friendly, thanks to features such as moving raised edges. Moreover, the Python is easily transportable and easy to operate.
Fast, product-friendly, flexible and easy to control. All of this makes the Python suited ...
En savoir plus
Jeudi 31 août 2023
The new Case IH Steiger 715 Quadtrac delivers power and speed to cover more ground in less time. The 715 horsepower-rated, 778 peak horsepower engine sets a new bar for performance and challenge in the Steiger lineup.
"The Steiger 715 Quadtrac is not just our most powerful tractor to date, it delivers power with ...
En savoir plus
Jeudi 31 août 2023