Qmac Machines BV
Welcome to Qmac Machines !
Qmac Machines BV is an independent company in Sondel, located in the southwest corner of Friesland, with the focus on agriculture, horticulture, industrial and construction machinery. Qmac is a producer and supplier of a wide range of machines and is flexible in adapting its machines according to specific customer requirements.
Qmac has a large and professional construction hall, provided with a waterjet, corner banks, cut banks, modern welding equipment, various CNC machines, but has also a team of well trained construction workers, who understand their job ! For example, any type of rubber scraper, from small to large, are provided with all possible mounting adaptors and configurations. We can also supply your frontloader buckets with any adaptor coupling. Qmac works quickly, professional and customized !
In short, through many years of experience and satisfied customers,
you are always assured of good and reliable Qmac machines !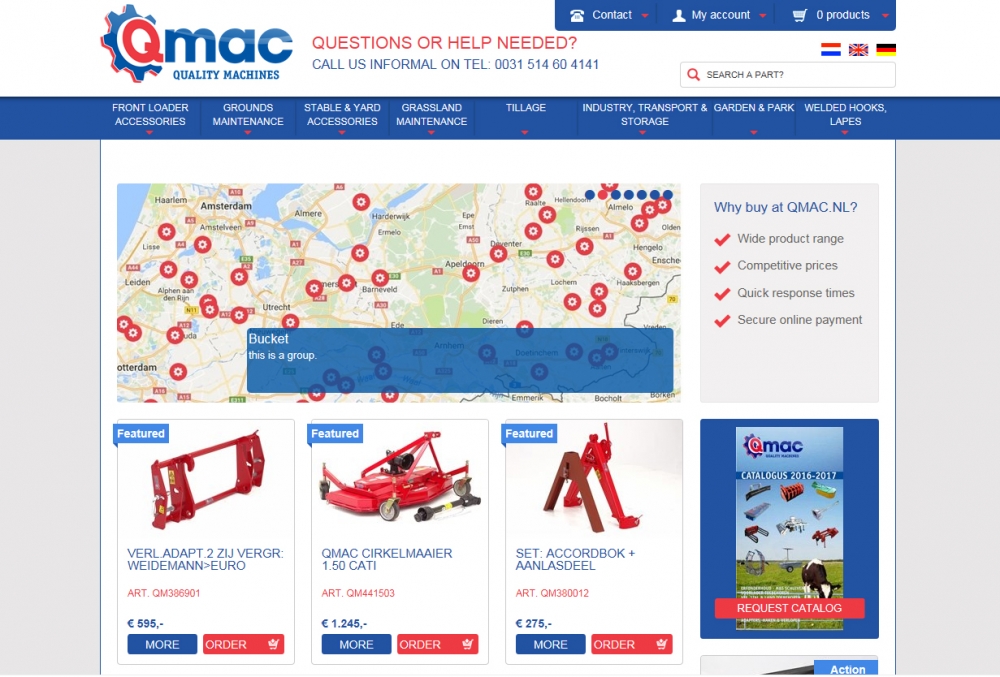 Qmac Partners - Dealers.
Qmac partners are spread all over the Netherlands, Belgium and Germany. You can find your Qmac supplier on the country map, after you have ordered your product online at our webshop. Qmac Partners are doing the delivery and service on your Qmac machines, because they are familiar and experienced with Qmac machines. If you can´t find a Qmac supplier on our country map, please call or mail your comments or requirements to our company and we will help you forward !
Are you a mechanization company or a wholesaler and you would like to become a Qmac Partner, please call or mail Qmac machines BV.


Why Qmac ...
We are your supplier with the widest range of machines for yard maintenance, grassland maintenance, tillage work, industry, transport and storage, front-loader accessories and the green sector. Through our website, which is an online actually catalog, you have always a clear overview of the latest products at actually and competitive prices.
Because we would like to hear your opinion and experiences of your Qmac machine, so that we can improve our Qmac machines or to increase the quality of our Qmac machines, as needed.
We work with more as 300 Qmac Partners in the Netherlands, to keep the distance between the customer and our products very small. Due our own transport, we can assure you a fast delivery of your machines, with a personal machine explanation at arrival !
By speaking a clearly language supported by a lot of experience, we understand your situation like nobody else ! Each machine has a different application, herein we are playing as manufacturer and supplier a key role. Therefore, you get always the right person on the phone, so that you rapidly and adequately will be informed or assisted.
Besides our webshop, you will find our machines and accessories also back on several national and local agricultural farmshows, This are beautiful moments to show customers a wide range of our Qmac machines, so that they can observe physical our products.
Qmac machines, when it comes to quality and customization!
See our website for more information and actions !